Live
Video of our August 5th 2021 experts LIVE!!
discussing the rights of Ontario School Children!!
REPLAY- Children's Health Defense Canada, Experts LIVE event (rumble.com)
https://www.facebook.com/CHDCanada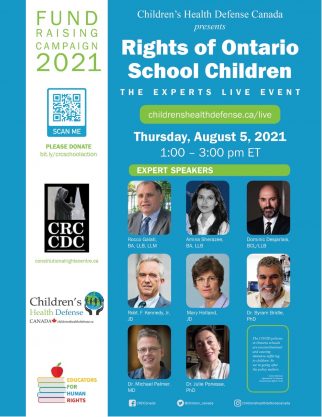 THE EXPERTS:
LAWYERS:
Rocco Galati: is the TOP Canadian constitutional expert lawyer in Canada and the executive director and founder of the Constitutional Rights Centre.  We are incredibly grateful to have THIS lawyer Rocco Galati as our number one CHDC lawyer fighting for Canadian children's rights!  Rocco mentors other constitutional and especially children's rights lawyers form other provinces as he is a feirce and passionate advocate for children's charter rights in Canada!
Amina Sherazee: is an accomplished and exceptionally talented Human Rights legal expert and the Operational Director of CRC, Amina specializes in women's and children's human rights in Canada.  CHD Canada is incredibly fortunate to have such an accomplished lawyer advocating for Canadian children with such integrity, diplomacy and professionalism!
Dominic Desjarlais: is an independent lawyer in Quebec Canada, who has a case filed in the courts challenging the, validity, constitutionality and legitimacy of the provincially imposed measures.  The Canadian charter clearly outlines that the onus is on the government to prove their rights violations are necessary and proportionate to the proposed limits and that has NOT yet been established in the courts!
Mary Holland: is the co-chair of Children's Health Defense USA and a brilliant Human Rights Lawyer.  Mary Holland has fought long and hard in the vaccination choice and safety movement. In the last fifteen years, she has co-written and edited two books, and co-founded two non-profit organizations.  In addition, she has published seminal legal articles on critical dimensions of vaccine law and policy.  Mary Holland has addressed legislators in Vermont, Maine, Pennsylvania, New York, Texas, California, Oregon, Washington and West Virginia on vaccine law and policy. She has held briefings on Capitol Hill and United Nations capturing international attention.
Robert F Kennedy Jr: Is the chairman of Children's Health Defense, and a very accomplished environmental lawyer and author of many books.  He has tirelessly advocated for the health of children for decades.
PROFESSORS:
Dr Byram Bridle Phd: Dr. Bridle received graduate training in immunology at the University of Guelph and then postdoctoral training as a viral immunologist at McMaster University.
Dr Michael Palmer MD: is an internationally educated chemistry professor and MD at University of Waterloo who has openly questioned his concerns since the start of COVID restrictions in Ontario, especially regarding University students.
Dr Julie Ponesse Phd: is an ethics professor at Western University with a background in bioethics, who has serious ethical concerns with current COVID situation.